CD Background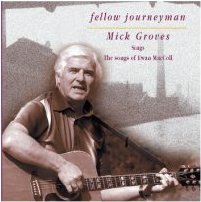 In 1999 I was commissioned by Salford City Council to perform a concert of songs to celebrate the unveiling of a plaque to honour EWAN McCOLL who like me was a son of Salford. I put together an evening of songs made by and/or collected by him. I also included songs I had learned over my years with THE SPINNERS that had been inspired by conversations with him about the importance of linking the traditional with the contemporary. This CD contains a cross section of the songs I used in the show. It seemed appropriate to start with one of his earliest and most famous songs, now known to many as a folksong THE MANCHESTER RAMBLER. A song written for the occasion of a mass trespass over Kinder Scout in the year of my birth 1936.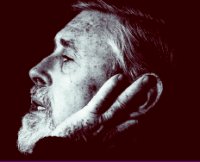 I then begin his story with the major influences on his early life in Salford. First and foremost there was William Miller of Stirling, who to Ewan, was MY OLD MAN. Next came his childhood on the streets, KIDS SONGS, and school, where he did not have a great experience hence, WE ARE THE YOUNG ONES (written by Peggy Seeger.) DIRTY OLD TOWN follows: – one of his early songs written for a drama "Landscape With Chimneys", when he was one of Britain's brightest young playwrights. It was all about Salford as he and I remembered it. Since then Salford has taken a big sharp axe to the dirty bits and now thrives with a stunning new arts centre, The Lowry Centre. Ewan's mum Betsy and dad Will gave him a life long love of the "muckle sangs" and so BONNIE SHEPHERD LAD. This led him into collecting songs and producing 'Shuttle and Cage'. A book that became an early bible of the burgeoning folk movement in the late fifties. From this I learned MOSES OF THE MAIL, which I sang at an EFDSS song festival in 1958 and thus became a "certified" singer of unaccompanied English songs! This small book began a collaboration with Bert Lloyd, which led to several albums on the Topic label including ROW BULLIES ROW. Ewan never shied from the hard political issues and his songs reflected this, from HARDCASE, about the prison system, THAT BOMB HAS GOT TO GO, the H-Bomb, BLACK AND WHITE, against apartheid, Cuba in the BALLAD OF THE BIG CIGAR, and Vietnam with DISC OF SUN. Another big chunk of his life was taken up with the Radio Ballads he made with Peggy Seeger and BBC producer Charles Parker, from these I have plucked: SHOALS OF HERRING, (Singing the Fishing, winner of the Prix d'Italia), BLANTYRE EXPLOSION, (The Big Hewer), and CHAMPION AT KEEPIN''EM ROLLING (Song of the Road). He later returned to the theatre with a group of young people, The Critics Group which gave rise to SWEET THAMES FLOW SOFTLY.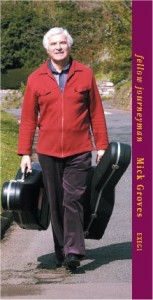 The vast majority of his life in song was spent with his wife Peggy Seeger, who was his musical collaborator and ideas sounding board. His love for Peggy was revealed to the world when he wrote THE FIRST TIME EVER I SAW YOUR FACE. Finally we come full circle to his love of the mountains with reprise of MANCHESTER RAMBLER and one of his last songs, written when he realised his mountain climbing days were over, the beautiful JOY OF LIVING.
All tracks words & music Ewan MacColl except:- Track 4. Words & music Peggy Seeger Track 7. Trad. Arr. Ewan MacColl Tracks 3, 6, 8, 15 Trad. Arr. Mick Groves
Musicians
Phil Beer – Fiddle, guitars, others & vocals 'Count' John McCormick – String bass Mick Burch – Harmonica & vocals Alan Howlett – Mandolin, melodeons John Philips – Banjo & vocals Graham Butterfield – Vocals Cliff Jones – Vocals
CD Credits
My Thanks to all who assisted me in making this CD, especially to Phil Beer for his unfailing kindness to an old 'folkie', and his considerable skills both musically and technically. Also to my old mate Johnny Mac for making the long journey to the West Country from his Liverpool home. Produced by Phil Beer at River side Studios, Exeter. Mastering Alisdair Bevan. Design by Gemini Publishing & Design. Photography by: Jim Maginn (Ewan MacColl), John Ffoulkes (Mick Groves).