Still Spinning is a collection of my favourite songs, learned, loved and performed over many years.
Given my long association with Liverpool, I was compelled to start with songs of the sea and seafarers.  First off we have Santy Anna, a hugely enjoyable romp combining an unaccompanied working shanty with accompanied after work version.  This is followed by Marquess, a love letter to a boat and its crew, written by my long time mate Hughie Jones. Onto more prosaic territory, Jackie Brown is a cautionary tale about a notorious boarding house keeper who preyed on sailors in Liverpool.  This is washed down with a fine little add on tune Becki's Jig.
Extending the maritime theme, I remain intrigued by the many thousands of people who sailed from 'The Pool' to North America in the 19th and 20th Centuries. These emigres took their songs along and altered them in 'tune' with their new and different world. The first such song is one I love, the traditional Mary Anne collected in the tundra wilderness of Canada. Next is the Beautiful Cedars, written by Keith Crows after years spent working on the 'big timbers' of British Columbia. Playtime is celebrated with an 'Old Timey' musical warning to all ladies, Beware Oh Take Care.
The first time I heard a traditional song was at my Granny's house in Salford.  Here lively gatherings of assorted uncles, aunts and cousins, played tunes on the piano, squeezed out a melody on the accordion and sang popular songs of the 30's and 40's, as well as some old Irish ballads.  The latter would be classified as 'folk' songs even though I did not know them as such until I started my musical career, at first in Skiffle and then in Folk.  My real love affair with traditional songs started with a radio program 'As I Roved Out'. It was here that I first heard Harry Cox, a traditional singer from Norfolk and his rendition of the Foggy Dew.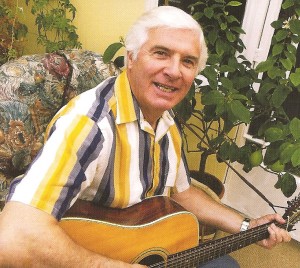 We started The Spinners Folk Club in Liverpool in October 1958, Gentleman Soldier was one of the 13 traditional songs I had learnt for the opening night I cannot recall how it went down fifty years ago, but this time I am ably assisted by Jackie Oates, a fine young singer and fiddle player. Sticking with the army theme, I pay tribute to my Father's generation with D-Day Dodgers, a fine song crafted by and about British soldiers who fought their way through North Africa and Italy. A excellent example of ordinary folk making a folksong overnight.
What would music be without the battle of the sexes. My dad, who was a Bold English Navvy, smiled when I first sang this for him. Regardless of whether he saw it as a folk song or not, he would have aggreed with Bert Lloyds view that a folk song is 'a song that touches you' and this one touched my dad.  When I was planning this collection, my great mate Cliff Hall asked me to include one of his songs. So here is my version of his Women Smarter Than Man , which I dedicate to his memory and which I recorded using the Martin guitar which he generously gave me before heading off to that Great Folk Club in the sky.
When my beloved Manchester United, in the guise of 'Busby Babes'. was decimated in the Munich air disaster in February 1958, I discovered the lyrics to Flowers Of Manchester. This tribute was published anon in Sing magazine, but eventually the editor, Eric Winter, admitted that he had written the words to this 'High Germany' air. I hope you will be moved by this version, arranged by Phil Beer, that was recorded to commemorate the 50th anniversary of the disaster.
Returning to the rich seams of home grown folklore and the demon drink, I have included a folk staple about the mythic Derby Ram.  John Barleycorn follows which you can interpret as the theme tune of the Campaig for Real Ale.  She Moved through The Fair is a song remembered from my Granny's musical gatherings. Carrickfergus takes me back to those years indulging in the juice of the barley, years not totally consigned to history, as I still enjoy the occaisional Bucket Of The Mountain Dew.
Having spent a lot of time in recent years in Australia this version of The Wild Colonial Boy was well received when aired in the local folk clubs.
Finally, I have returned to the sea with a story of the ill fated Lord Franklin, the song that cemented my love of English folk song.  The collection finishes on an upbeat note with Greenland Whalefishing, in which the whales saves itself.  Hurray!
Thanks to:-
Becki Driscoll for her fiddling; Jim Causley for his singing and accordion work; John Philips for his 'old timey' vocal / banjo; Mick Burch on harmonica on D-Day Dodgers and Jackie Oates for her singing and fiddle on Gentleman Soldier.   Also my very special thanks to my long time colleague and musical guru "Count" John McCormick.  Photography John Ffoulkes.
Big Special Thanks to Phil Beer
for his multi instrumental and vocal input as well as his technical expertise in producing this CD.
1. Santy Anno 3.45
2. Marques 2.42
3. Jacky Brown, Becki's Jig 4.01
4. Mary Anne 2.44
5. Beautiful Cedars 2.38
6. Beware Oh Take Care 2.23
7. Foggy Dew 2.50
8. Gentleman Soldier 2.25
9. D-Day Dodgers 4.00
10. Bold English Navvy 3.20
11. Woman Smarter Than Man 2.32
12. Flowers of Manchester 5.05
13. Derby Ram 2.40
14. John Barleycorn 3.41
15. She Moved Through The Fair 2.10
16. Carrickfergus 3.45
17. Bucket of the Mountain Dew 1.30
18. Wild Colonial Boy 2.30
19. Lord Franklin 3.03
20. Greenland Whalefishing. 5.06