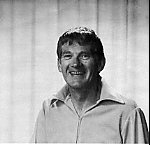 Tony the 'tall one' was born in Blackburn Lancs., but has lived most of his life on Merseyside and met Mick at Teacher Training College.

He started his musical life in jazz whilst still at school. He worked his way from 'trad jazz' through blues and skiffle to folk music with The Spinners. 

Since the band retired he has returned to his first love, jazz, but still sings songs of the Mersey and shanties to Master Mariners. Tony played clarinet in his youth but turned his hand to the banjo, tin whistle and the dreaded Kazoo with The Spinners.